This year your Temple Community is offering many ways to help you celebrate CHANUKAH!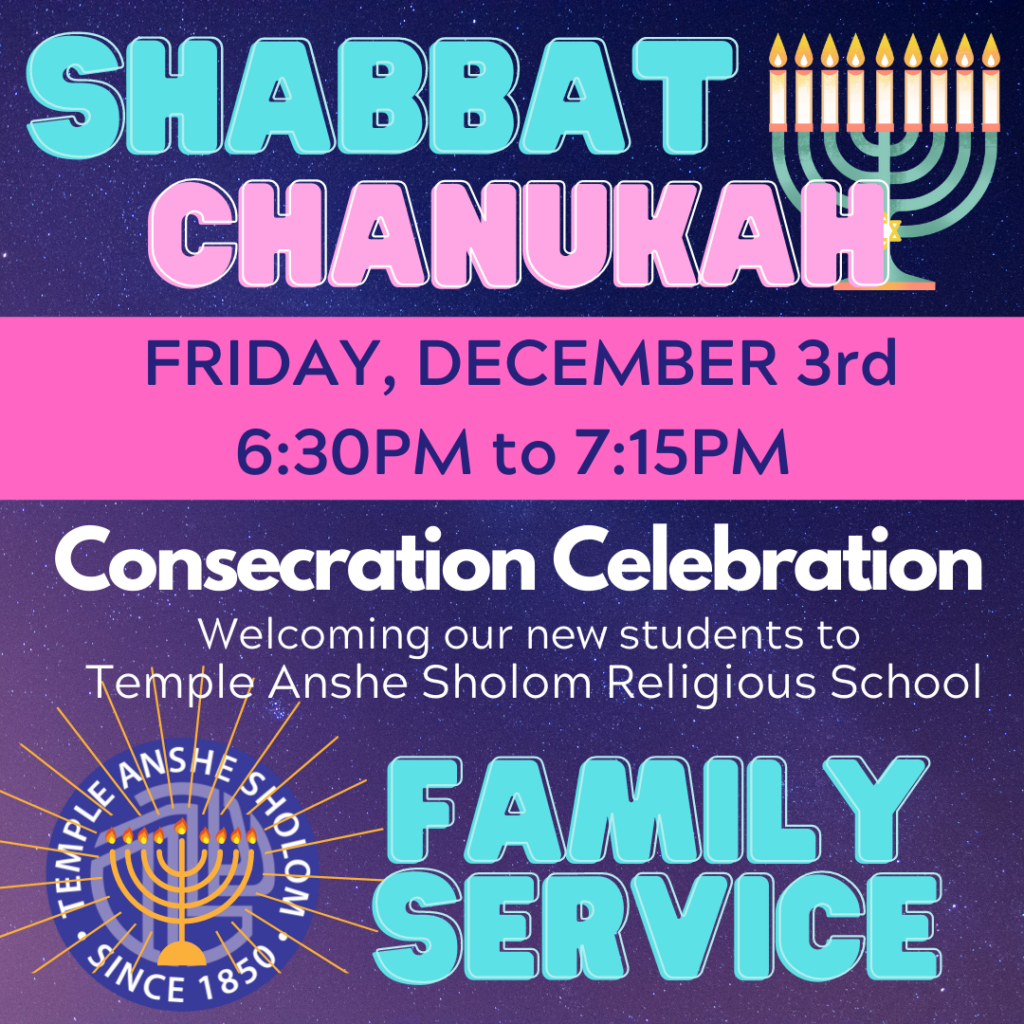 Join us for SHABBAT CHANUKAH!
We are also pleased to announce the beginning of FAMILY FRIDAY SHABBAT SERVICES.
Beginning on Friday, December 3rd at 6:30 PM we are dedicating the first Friday's monthly to a joyous earlier and shorter service ESPECIALLY for our children and their families.
We look forward to singing and dancing with your family and celebrating Shabbat with stories and cuddles.
There will be opportunities to interact and contribute to leading prayers and readings for our community.
On FAMILY FRIDAYS it's all about participation and engagement and belonging. Come meet other families and raise your Shabbat to new heights!
Register IN-PERSON: https://forms.gle/JhQKcs5UMxeGPfzH7
Register ONLINE:  CLICK HERE FOR ZOOM LINK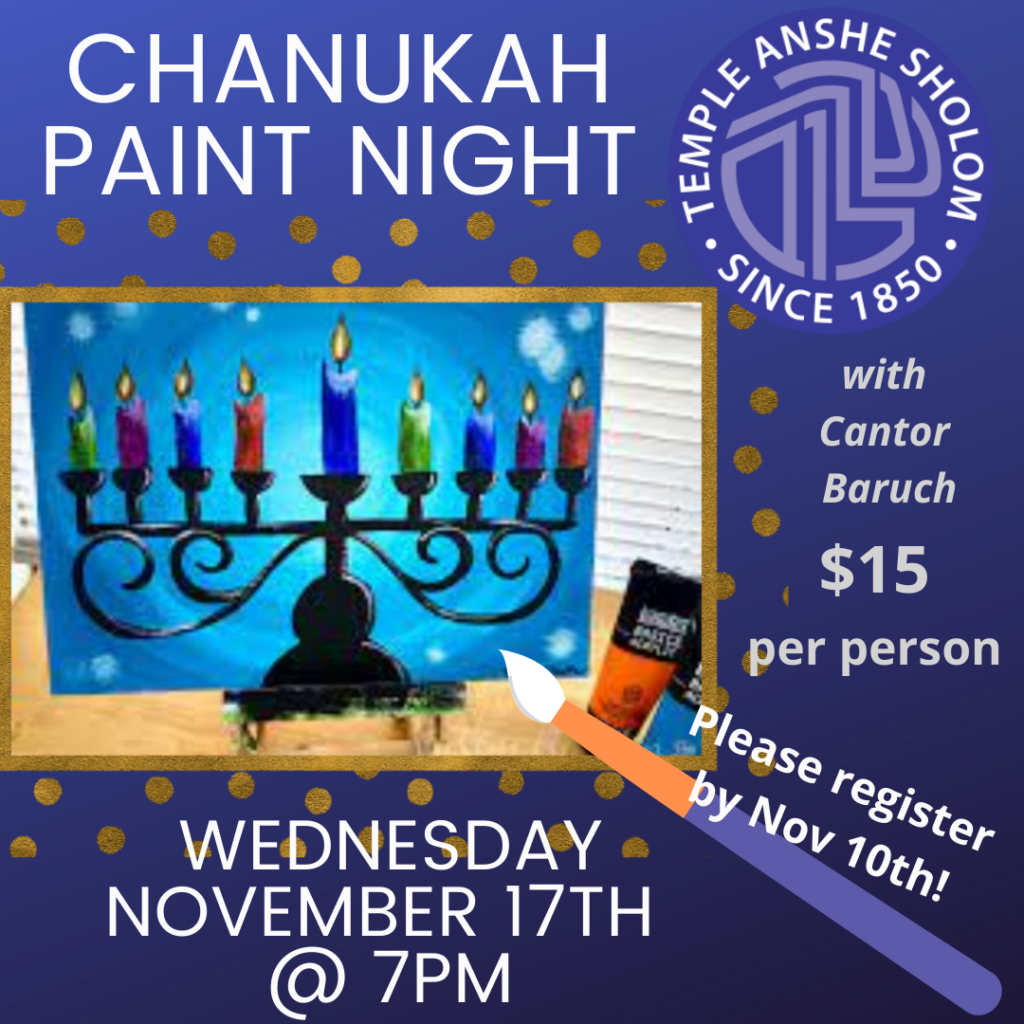 We're kicking things off with a Chanukah Paint Night.
Get ready for CHANUKAH with this fun evening of music, laughter and painting!
Please register for the IN PERSON event at Temple Anshe Sholom.
Our Paint Night is scheduled for Wednesday, November 17th at 7:00 PM.
Cantor Paula Baruch will guide everyone through the creation of a colourful and festive menorah that you can take home at the end of the evening to decorate your home for the Festival of Lights.
Cost is $15 which covers all supplies needed for this painting.
Please bring your own snack and beverage to enjoy during the event.
There is a maximum of 12 participants so sign up early!
All of our safety COVID protocol will be in effect for this gathering.
You must be fully vaccinated and wearing a face mask indoors at all times to participate.
To register please contact:  Cantor Paula Baruch   pbaruch@anshesholom.ca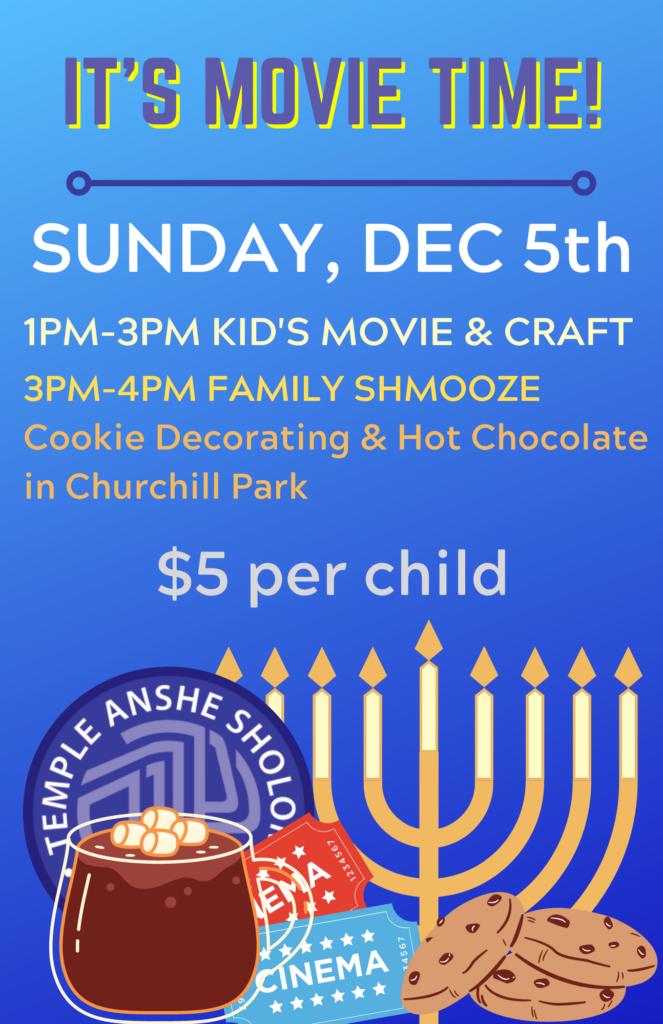 Social time for your children and YOU!
With Chanukah coming to a close, let's celebrate the LIGHT? Our Temple Religious School has organized something very special for you!
Bring your children to our Movie and Craft afternoon. They will have a great time from 1:00 PM until 3:00 PM playing with friends, enjoying a Chanukah Craft and a FUN Movie. Meanwhile, you have 2 hours to yourself….ahhhhh.
This event is Sunday, December 5th with drop off at 1:00 PM
Parents should return by 3:00 PM to enjoy some Shmooze time with Hot Chocolate and Chanukah Cookie decorating in Churchill Park.
Cost is $5 which covers all supplies needed for this fun event.
All of our safety COVID protocol will be in effect for this gathering.
To register please contact:  Dora-Ann Cohen Ellison  dacellison@anshesholom.ca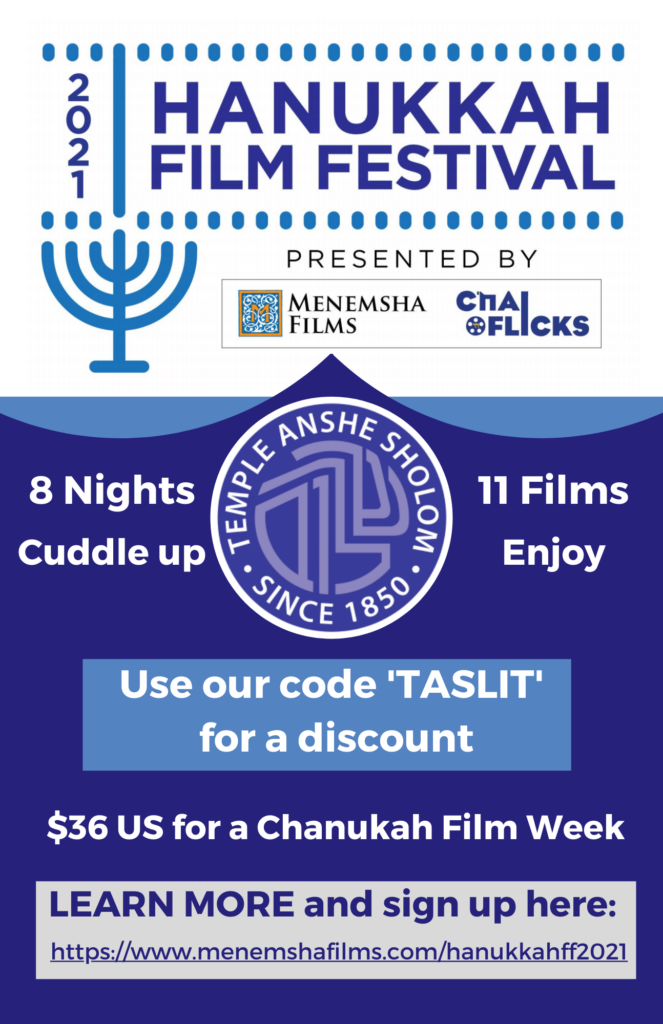 Great FILMS for each night of CHANUKAH!
We're excited to be partnered with Menemsha Films and Chai Flicks to deliver an outstanding Film Series for the 8 nights of Chanukah.
Check out the trailer for this special series. There are 11 films of varying lengths and topics, which you can read more about below.
This event begins on the first night of Chanukah, Sunday, November 28th and continues each night until Sunday, December 5th.
The cost for this series is $36 US which is a discounted rate (from $48 US) for using our purchase code TASLIT at checkout. Temple Anshe Sholom receives 50% from each purchase, so you are also helping your Temple Family.
Once you have purchased the series you are in the driver's seat, choosing which movie to watch each night…or a movieathon all on one night…your call.
To register:  https://www.menemshafilms.com/hanukkahff2021
Hanukkah Film Fest 2021 – Press Info