This year your Temple Community is offering many ways to help you celebrate CHANUKAH!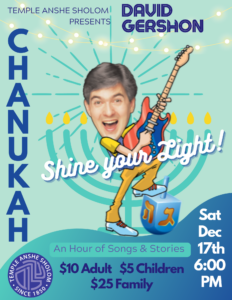 Get ready for CHANUKAH with DAVID GERSHON!
That's right! David Gershon is coming back to Temple Anshe Sholom on Saturday, Dec 17th to help us get ready for Chanukah.
Bring the whole family to enjoy songs, stories and a whole lot of FUN!
Whole Family  $25
Adult $10       Child $5
REGISTER NOW:  https://templeanshesholom.shulcloud.com/event/shineyourlight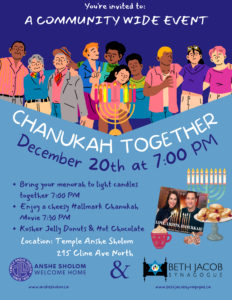 COMMUNITY WIDE CHANUKAH CELEBRATION!
We're inviting everyone to bring a Menorah to this gathering and light candles together at 7:00 PM.
The location for this event is Temple Anshe Sholom, 215 Cline Ave North, Hamilton, ON.
We have a cheesy, Chanukah Movie to share, as well as Kosher Jelly Donuts & Hot Chocolate. We have lots of room to spread out safely and welcome all to come out and enjoy community.