YoFi Shabbat for Families March  1st
This month we celebrate ALL THINGS PURIM! Join Rabbi Cohen & Cantor Baruch and friends as we learn about PURIM especially with very young ones in mind! We gather in the chapel at 5:15 PM with fun learning activities, songs and a special story. We always send you home with a craft to do together and provide a healthy and delicious Oneg to bring joy to your Jewish life! YoFi Shabbat is the first Friday of each month, with some extra special Family programs throughout the year!
YOFI & SHIRA bear are all dressed up for PURIM!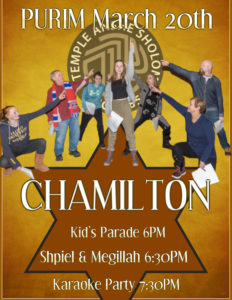 IT'S PURIM TIME  March 20th, 2019
Each year we produce an outstanding musical Purim Shpiel with Megillah chanting interwoven. This year we are proud to present the Canadian premiere of the hit musical HAMILTON! Of course, our version is called CHAMILTON…for legal reasons;)
Coming in a costume wins you a prize and a spot on our Bimah for the Costume Parade. After our Purim Shpiel, stay on to party the night away and lay down some cool Karaoke tracks. Hump day has never been this FUN!
!משנכנס אדר מרבין בשמחה