Hope, Healing & Love
is the theme of this Cantorial Concert. We know these human experiences are intertwined and integral to our well-being. This concert is a musical exploration into these aspects of our people and communities. After a full year of dealing collectively with a worldwide epidemic, it's time to contemplate, reflect and gather our strengths together to move forward. In 2018, our Cantorial Soloist, Paula Baruch was ordained as a Cantor, having completed the four year certification program at Hebrew Union College's, Debbie Friedman School of Sacred Music. The Cantors involved in this concert are all beloved members of the class of 2018. The concert is organized by Cantor Laurie Weinstein, Temple Israel, Tulsa, Oklahoma and sponsored by her congregation's Cantorial Concert Fund in memory of Marcia Jankowski, who was passionate about music. Some of you have contributed donations to our TAS Berns Music Fund to show your thanks for this concert. 
I'm delighted to send the link to access this event to anyone who would like to join us and there is no charge for this. Please email me: pbaruch@anshesholom.ca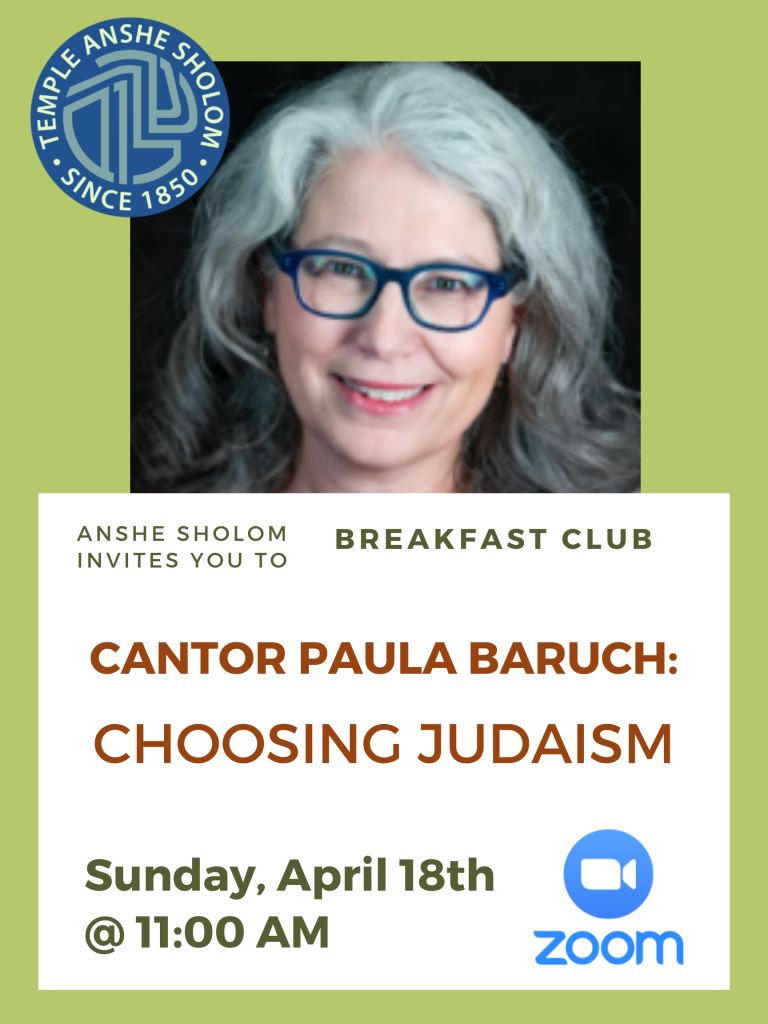 Join us for Breakfast Club ONLINE on SUNDAY, APRIL 18th at 11:00 AM.
Our speaker is our own Cantor Paula Baruch who will be speaking about:
CHOOSING JUDAISM:
A Personal Journey and Reflections