JOURNEY TO FREEDOM 5780
Join us ONLINE to experience a wonderful interactive and musical Passover Seder on Wednesday, April 8th at 6:00PM.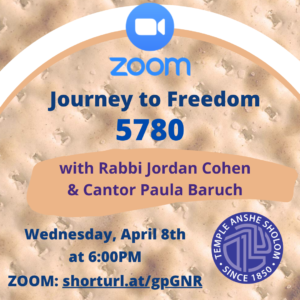 From our Seder Plate to yours!
---
Enjoy a JEWISH SHOUT OUT from Jewish songwriter Jacob Spike Kraus, just for Temple Anshe Sholom!
You can sponsor a JEWISH SHOUT OUT.

HOLD THE NEW DATE!
For the health and wellbeing of our honourees, congregants and community at large, we (the Gala committee, our Clergy and the Temple's Board of Trustees) are postponing the Benefit Gala 2020 until Sunday, October 4th.
All are asked to please stay on board and invested in our major Temple fundraiser and hold the NEW date – Sunday, October 4th for a special night of celebration.
Special thanks to our ticket holders and generous sponsors for their ongoing support.
POSTPONED: SUNDAY, OCTOBER 4th at 5:30PM 
Liuna Station – Grand Central Ballroom