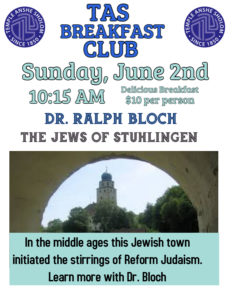 Breakfast Club is back!
Our Spring Series of Breakfast Club is in full swing with a delicious breakfast for $10 and engaging presentations on a wide range of topics.
Sunday, June 2nd at 10:15AM
Dr. Ralph Bloch ~ The Jews of Stunlingen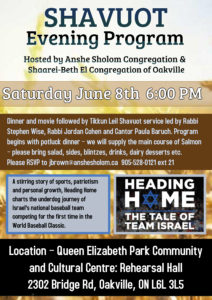 Shavuot Leil Tikkun June 8th
Join us for a very special Festival evening program shared with Temple Shaare Beth El of Oakville. Our two Temple Communities gather for a Dairy Potluck Dinner and a movie at 6PM. Our featured movie is Heading Home: The Tale of Team Israel, a film that chronicles the professional baseball players who come together to play for Israel in the World Baseball Classic. A Tikkun Leil Shavuot Service will follow the movie, led by Rabbis Wise and Cohen, and musically supported by Cantors Wunch and Baruch. All are welcome.
Saturday, June 8th at 6:00PM
Location: Queen Elizabeth Park Community and Cultural Centre: Rehearsal Hall 2302 Bridge Road, Oakville, Ontario L6L 3L5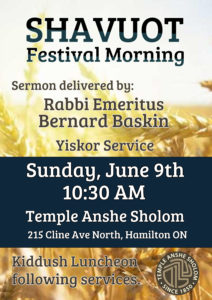 Shavuot Festival Service
Our Festival Services are brimming with prayers and melodies heard only this time of year. Shavuot is the last of three pilgramage festivals we are commanded to observe and the culmination of our counting of the Omer. We are especially honoured to welcome a visit from Rabbi Bernard Baskin who will deliver the sermon. Delicious Kiddish Luncheon follows the service.
Sunday, June 9th at 10:30AM
HALLEL will be chanted and YIZKOR will be observed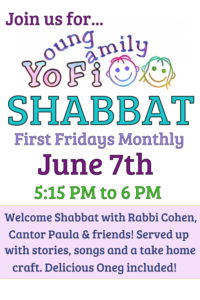 YOFI Shabbat for Littles
YOFI Shabbat is especially for families with young children to experience Shabbat with stories, songs and games together with Rabbi Cohen and Cantor Paula. Enjoy a delicious and healthy Oneg and take home a craft to do together as a family.
Friday, June 7th at 5:15PM
YOFI bear looks forward to singing with you!