zoomurj camp
We have some special summer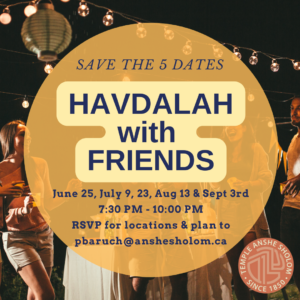 gatherings planned for our members! Join us for
HAVDALAH with FRIENDS
Save the dates for these FIVE fun backyard parties, featuring great music, warm conversation and the opportunities to meet new and old friends. We've got locations that will delight you such as:
JUNE 25th ~ Mountain View
JULY 9th ~ Country Farm
JULY 23rd ~ Poolside Retreat
AUGUST 13th ~ Garden Paradise
SEPTEMBER 3rd ~ Rabbi & Cantor's Backyard 
To RSVP and get directions & plans, email our program director:
GARDEN SERVICES are back this summer. We have three outdoor services
planned in the park behind Temple Anshe Sholom. They begin at 6:30 PM
(not 7:00 PM as usual). Bring a lawn chair and your device to access the
digital Siddur. Arranging for a Picnic  Shabbat Dinner following the service is
encouraged!
IN PERSON ONLY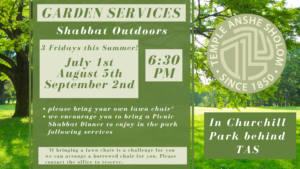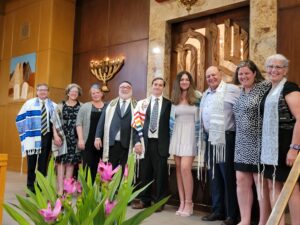 MAZEL TOV to the Sniderman and Korman Families who celebrated the CONFIRMATION of their amazing children. Natasha & Ethan WOWED us with Torah Chanting and well researched, thoughtful Dvar Torah on the Ten Commandments. We are grateful for their wonderful gift of a new water station for our school wing, with bottle filler and fountain. These two families partnered with our Deborah Sisterhood to create a new 'well' at Anshe Sholom.