zoomurj camp
REGISTER now for your FREE seat at any of our
High Holy Day Services!
IN PERSON CLICK HERE                                                              ONLINE CLICK HERE
Welcome Back to Temple Anshe Sholom for the High Holy Days!

L'Shanah Tovah
2nd Day Rosh HaShanah Services include

TORAH chanting by two of our outstanding young people.

KIDDISH LUNCHEON following the service. ALL are welcome!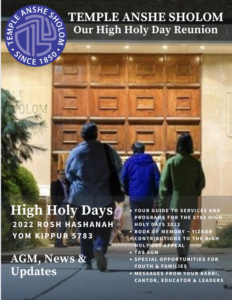 We welcome you home for High Holy Days 2022. Our High Holy Day Bulletin has information about all of our services, programs and events.