We are offering an online Torah Study Webinar beginning Wednesday, March 11th at 8PM
Jewish Information Course
Thursdays, 7:00-10:00 PM
Sponsored by the Beit Din of the Reform Rabbis of Greater Toronto and taught by experienced teachers and rabbis from throughout our community, the Jewish Information Course is for adults considering conversion to Judaism or who just want to learn more about Judaism and Jewish tradition. This year-long program, presented in cooperation with Solel Congregation in Mississauga and Temple Shaarei Beth El in Oakville, familiarizes students with Hebrew, Jewish prayer, holidays, customs, core values, history, current issues, and more. New students can enter the course in September and January, only by registering through a sponsoring rabbi. For more information about JIC, please contact Rabbi Jordan Cohen at rabbijc@anshesholom.ca
 ~ ~ ~ ~ ~
Breakfast Club
A series of 5 Sundays in the Fall and Spring

Breakfast available from 10:15 AM, Presentation begins at 11:00 AM
Running for over 60 years, the Anshe Sholom Sunday Breakfast Club is a long standing congregational tradition. For 10 Sunday mornings throughout the year the Breakfast Club presents interesting and engaging speakers on topics of Jewish and general interest. Come at 10:15 to enjoy a delicious breakfast for only $10.00 per Sunday or purchase a year's subscription for just $80 and save! Stay to nurture your mind and soul as well. Presenters this year include…. 
Breakfast Club – SPRING SERIES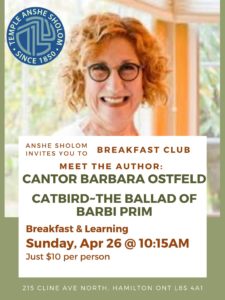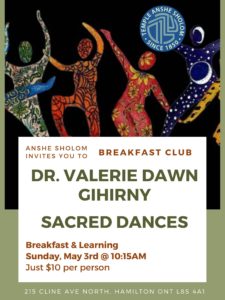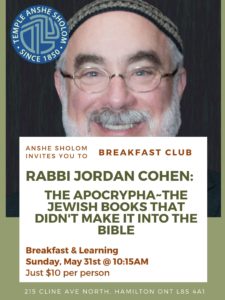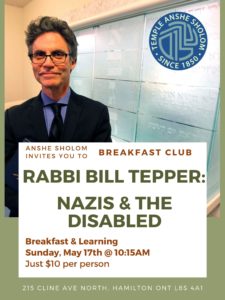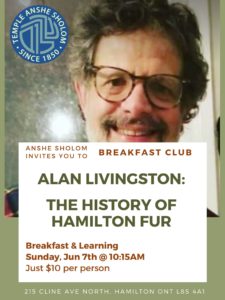 ---
Lunch & Learn and SO MUCH MORE!
Aimed at those 55+ and open to anyone interested. These Wednesdays are filled with learning, sharing, thinking, joy & friendship. Our Lunch & Learn Wednesdays happen monthly, alternating at both Temple and Shalom Village.
Wednesdays, 11:30am – 1:30pm
Our  Lunch & Learn program schedule:
11:30am – Light Lunch and Schmooze   
12:00pm – 1:30pm    Special Guest presents Talk/Film series
Book your calendar now for all of our upcoming 2020 Winter/Spring Lunch and Learn dates: