June, July & August are lovely months at Temple Anshe Sholom. We are enjoying the beauty of the summer as we continue to worship, learn and enjoy the company of our community.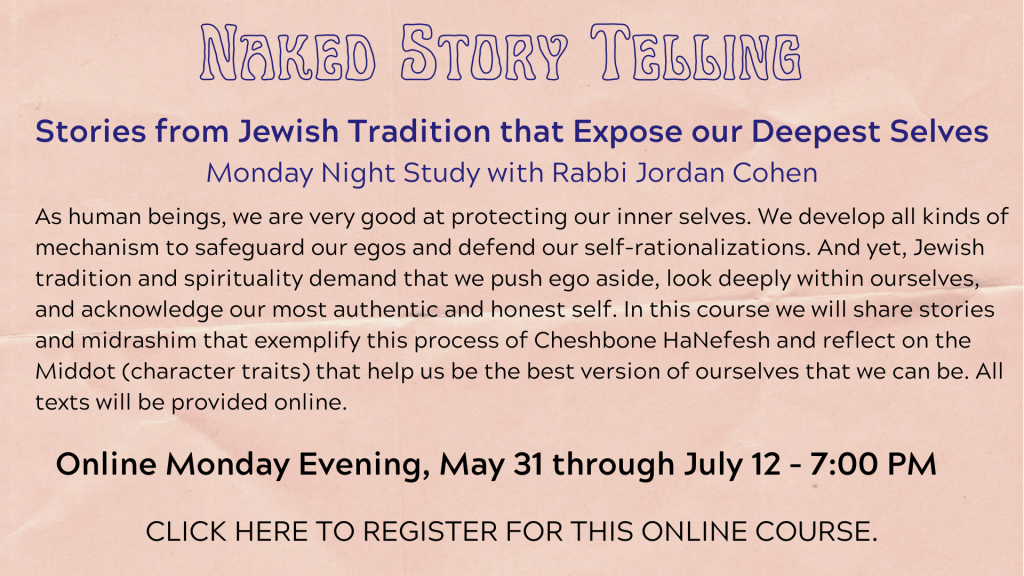 Naked Story Telling explores our stories which expose the truths within us. Rabbi Cohen has a love and a passion for telling the stories of our Jewish Tradition. 
Final two classes are July 19 & 26 at 7:00 PM
ANNOUNCING: BREAKFAST CLUB FROM ISRAEL
We are delighted to partner with Shaarei Beth El of Oakville and Solel Congregation of Mississauga to bring you these amazing sessions from Israel. We've booked four Sundays over the summer to gather and learn more about Israel. Here's what's coming up!
The Zoom LINK for all four sessions is:
https://us02web.zoom.us/j/2801007581
July 25th at 11AM

Jew Who? – One Jew, Two Opinions, and No Right Answer

– led by Aviv Naftali

"Behold, how good and how pleasant it is for brethren to dwell together in unity" (Psalms 133). We invite you to sit with us in unity while bringing up challenging questions and discussing complexity and conflict. Together we will learn about the Jewish affiliation layout in Israel, the struggles between the different movements and emphasize sources of sight and inspiration that maintain our unity.

LINK:

August 8th at 11AM

Shvil Israel – Tour the Israeli Trail Step by Step

– led by Noga Wiess

Get your Mutchila bag and your Shoresh sandals and join us as we travel Shvil Israel step by step. From Kibbutz Dan to Eilat through The Galili, the Negev and the centre of the country, together we will experience the essence of the "Shvilistim", meet the angels of the trail and feel Israel from the ground up without leaving your couch.

LINK: